It has been HOT here in Texas day in and day out. My vegetable garden has been totally neglected for the last couple of months. Ever since seeing
Frugal Queen
's quilting posts, I've been itching to make one. It has been 19 years or so since I last made one.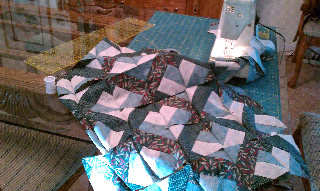 Looked up some YouTube videos on jellyroll quilts, and here is the almost finished result. I've made assembly line quilts before, so once the fabric strips were cut out, the blocks and the quilt top went together relatively quickly. This one will be for my first grandson. His crib is green, so that's why I chose the colorway in this particular top.
The quilt was made frugally, sort of, since the fabric was in the stash in my closet these last 19 years! I don't plan on going out to purchase fabric at a quilt store anytime soon, if at all, because that would get very expensive. BTW, the large green OLFA rotary cutting mat was purchased a while back at Goodwill for $2.99. I just couldn't pass it up. I had a smaller one I purchased years ago new, and I'm sure I paid close to $30! This one is a lot easier to use because I can cut a length of fabric folded in half, whereas with the other one, I had to fold it twice.
Anyhow, I know I've been scarce. Will try to get back into posting more often.